Delivering Top-Notch Solutions to Our Valued Customers in South Africa
Introduction of our company:
In the heart of the bustling manufacturing industry, where innovation and precision are paramount, stands Shanghai Consung Intelligent Technology. With a rich history spanning over 15 years, we have been at the forefront of producing cutting-edge 5-gallon bottle cap assembly machines that have won the trust of customers worldwide. The main machine we doing are: 5-gallon water bottle cap sealing labeling machine, a 5-gallon water bottle cap lining machine, and a 5-gallon water bottle cap assembly machine.
Today, we are thrilled to share the story of our latest endeavor – a partnership with a valued customer in South Africa who has recently ordered our top-of-the-line 5-gallon cap liner machine, 5-gallon water bottle caps labeling sealing machine, and cap assembly machine.
The inquiry received from the customer says:
i am located in South Africa, what is price for the label machine. i also would like to know if you also manufacture a machine to assemple the liner and the valve on the cap Thank you.
Building Strong Partnerships
At CONSUNG, our core philosophy revolves around building strong partnerships with our customers. We believe in understanding their unique requirements to deliver tailored solutions that enhance manufacturing capabilities and streamline production processes. You can see the sample pictures as below: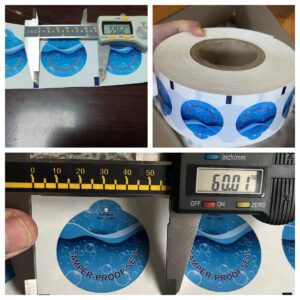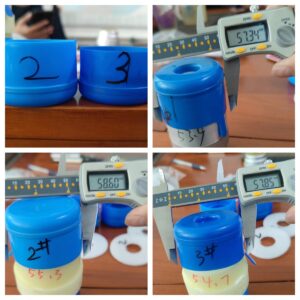 After checking all the details with customer,we have make the below solution and quotation to the customer.
Unraveling the Cap Liner Machine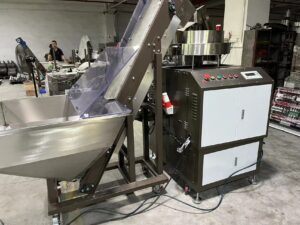 The first piece of machinery that caught the eye of our South African customer was our advanced 5-gallon cap liner machine. It is equipped with a cap elevator to automatic feeding the caps into the cap arrangement. The machine is designed with an automatic correction device to make sure the cap is round and positioned. There are 8 pieces of liner gripper which enables the speed can be reached to 6000 pieces per hour.
Features of the cap liners:
-Pre-Cut Liner
-Cap to be inserted with liner
-Aluminum-liner/Paper-Liner/EPE Sponge-Liner
-Liner with/without tap
Cap sealing labeling machine for 5 gallon bottle caps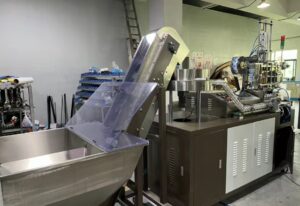 It can automatically round the deformed bottle cap, and then automatically label it after the tail is finished; there is no need to worry about the difficulty of getting on the machine due to the deformation of the bottle cap.Also equipped with the cap elevator,and as an optional you can add the detecting and rejection device after labeled the caps.Just depends on your request.
Our cap sealing labeling machine is normally divided into 3 models,which is best selling:
-TB-002 with two cavities
-TB-004 with four cavities
-TB-006 with six cavities
In this case,we have recommend the TB-004 to the customer according to his production capacity needs.
Seamless Cap Assembly Process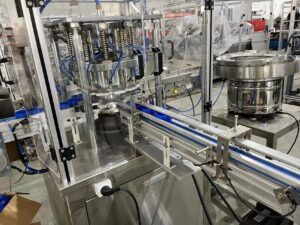 Rounding off the trio of remarkable machinery is our 5 gallon bottle cap inner plug inserting machine . Designed with utmost precision, this machine handles the intricate process of cap assembly with ease. From inserting plugs to sealing the caps, it ensures a smooth and efficient operation, boosting productivity and minimizing downtime. Our customers can now enjoy increased output without compromising on the quality and consistency of their bottle caps.
Structural Composition of the Machine:
-Vibrator bowl cap feeder—-sorting messy inner plugs in order and mouth downwards
-Centrifugal disc feeder—sorting messy outer caps in order and right orientation
-Main machine—assembly the 2 parts, detect the final products and reject the unqualified ones out from the good ones
-Way out conveyor—counting final products and discharge
Finished products: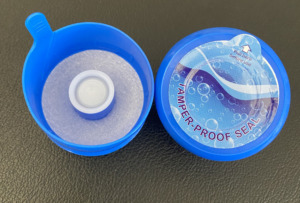 Customer-Centric Support
Our collaboration with esteemed customer from South Africa is not just about delivering machines; it is about offering a comprehensive and customer-centric experience. From the initial inquiry to the installation and beyond, our dedicated team of experts has been by their side, providing unparalleled technical support and training to ensure optimal performance and efficiency of the machines.
Conclusion
As we celebrate this milestone partnership, we extend our heartfelt gratitude to our valued customer in South Africa for trusting us with their manufacturing needs. It is through such collaborations that we continue to push the boundaries of innovation and deliver excellence in every machine we create.
If you too are seeking to elevate your production capabilities and enhance the quality of your 5-gallon bottle cap assembly process, look no further than CONSUNG. Join hands with us, and together, let's build a future of efficient and top-notch manufacturing.
For inquiries or to explore our diverse range of 5-gallon bottle cap assembly machines, please visit our website or get in touch with our sales team via whatsapp:0086 15895568335