Background: Get the inquiry of 5-gallon bottle cap labeling sealing machine from a caps manufacture in Croatia. Original email as below:
We are caps manufacturers from Croatia ( 5 gallon water bottle caps label and sealing machine).
I saw your video on you tube (see attached). Please send me an offer for the same machine like this – 4 plugs.
We need 100 pieces / min  or we do not know your machine capacity , maybe you may inform us first than we can decide .
You may find the Picture in attached file . we only need labeling machine , because our cap has injected inner seal and inner cap .
Kindly awiting your reply
Specification of his caps as follows:
Cap Picture: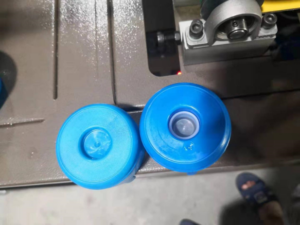 Cap Design: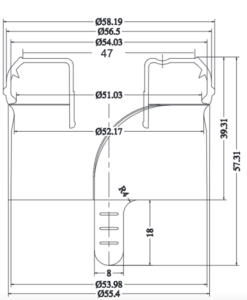 Label Drawing: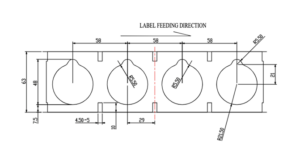 After checking these detailed request, we have recommend our TB-004 5 gallon bottle peel-off labeling sealing machine with the detailed specification as follows:
Name
5 Gallon Water Bottle Cap Labeling Sealing Machine,5 Gallon Bottle Closure Labeling Sealing Machine for Croatia
Model
TB-004
Output
4500-5600 pieces/hour ,if cap shape changed or too soft, output will is less.
Film Thickness
 0.05-0.10mm
Film Wide
57~70mm
Input Voltage
AC 220V
Working Voltage
AC 220V  and  DC 24V
Compressed Air Pressure
6-8kgf/c㎡
Working
Pressure
5.5-6kgf/c㎡
Max Rated Power
3KW
Machine Dimension
2800×1000×1850mm
Weight
600KG
Machine testing video:
Here you will find some tips in Purchasing A High-Quality Labeling Machine Equipment
A well-functioning labeling machine plays a crucial role in achieving impeccable product packaging, enabling you to apply attractive and elegant labels to your products. When purchasing a labeling machine, several key aspects should be taken into consideration:
Stability: A superior labeling machine relies on a well-designed mechanical structure, organized wiring, robust component construction, and excellent electromechanical quality to ensure smooth operation under prolonged high workloads. Long-term stability of the labeling machine reduces maintenance costs for users, meets reasonable production demands, and provides manufacturers with quality assurance, leading to increased production output.
Speed: Manufacturers need to determine the appropriate labeling machine speed based on their requirements and the integration with preceding production lines. A comprehensive assessment is necessary to achieve a perfect match, ensuring true optimization, rationalization, and uniformity.
Precision: The labeling process represents the final stage of product packaging, directly impacting the product's visual presentation and market promotion. High labeling precision, superior printing quality, flat and wrinkle-free labels without bubbles are indicative of a top-quality product. Otherwise, inadequate precision could inadvertently downgrade the product's overall quality.
Frequently Asked Questions (FAQ) – 5-Gallon Bottle Cap Labeling Sealing Machine
Q1::What is a 5-gallon cap labeling sealing machine?
A1:The 5-gallon cap labeling sealing machine is an advanced piece of equipment designed to automate the process of applying labels and sealing labels onto the caps of 5-gallon bottles.
Q2:Why is accurate label placement important?
A2:Accurate label placement is crucial for maintaining a professional and appealing appearance of your products. Properly aligned labels create a positive brand image and provide consumers with essential information about your product.
Q3:How does the machine ensure consistent label placement?
A3:The machine is equipped with precise labeling mechanisms and sensors that detect the position of each bottle. These sensors ensure that labels are applied uniformly and aligned correctly every time.
Q4:Can the machine handle different label sizes of caps?
A4:Yes, our 5-gallon cap labeling sealing machine is designed to accommodate the 38mm-58mm diameter caps with different model of machine.
Q5:What type of caps can be sealed using this machine?
A5:The machine is compatible with various types of caps commonly used for 5-gallon bottles, including screw caps and snap-on caps. It ensures a secure seal to prevent leaks and contamination.
Q6:Does the machine offer customization options for labeling?
Q6:Absolutely. Our machine allows for customizable labeling options, enabling you to showcase your brand's logo, product information, and other relevant details.
Q7:What is the production capacity of the machine?
A7:The production capacity varies depending on the specific model and configuration of the machine. We offer machines with different throughput rates to match your production needs.
Q8:Is the machine easy to operate?
A8:Yes, our 5-gallon cap labeling sealing machine is designed with user-friendliness in mind. Its intuitive interface and user-friendly controls make it easy for operators to set up, operate, and monitor the machine's performance.
Q9:Does the machine require regular maintenance?
A9:Like any machinery, regular maintenance is important to ensure optimal performance and longevity. We provide detailed maintenance guidelines and support to help you keep the machine running smoothly.
Q10:Do you offer technical support and training?
A10:Yes, we offer comprehensive technical support and training for the proper operation, maintenance, and troubleshooting of our machines. Our team is dedicated to assisting you at every step of the way to ensure a seamless experience.